Small businesses have mixed results on the platform and the answer to the 'big' question is one with many answers. Here are some things to consider, and some of the factors that can impact your successes. Facebook offers a number of promotional options. From the 'Boost Post' functions – to outright targeted advertising. Choosing between them can have a significant impact on your returns.
'Boosted Posts'
The option to 'boost a post' on facebook can be appealing. Your previous posts often appear in your stream with a simple button to expand reach. You will be presented with options for increasing exposure to "Friends and Friends of Friends" or 'Targeting' the post to a new audience.
There's no guarantee that showing your post will result in traffic, and certainly no guarantee that the friends of your fans will be interested. Certainly in some situations, it's a reasonable option – but when you consider the depth of facebook's targeting options there are other options that warrant consideration!
Sponsored 'Posts'
The facebook advertising platform truly shines in the realm of targeted ads. The ad platform certainly has some quirks to navigate when creating your ads, but the quality of targeting shouldn't be underestimated. The platform provides targeting geographically, from a postal code to a city, state, or province. Far more valuable however, is the abililty to target your ads by 'interests'.
In addition to demographics (age, or gender for example) facebook's interests segmentation allows you to build a 'model' of your target customer. The power of this ability is particularly suited to businesses who understand their consumers. Targeting can be achieved by aligning your ads with members of other pages on facebook, or those with very specific, or varied interests! A retailer of wetsuits for example could tailor targeting to a very specific group: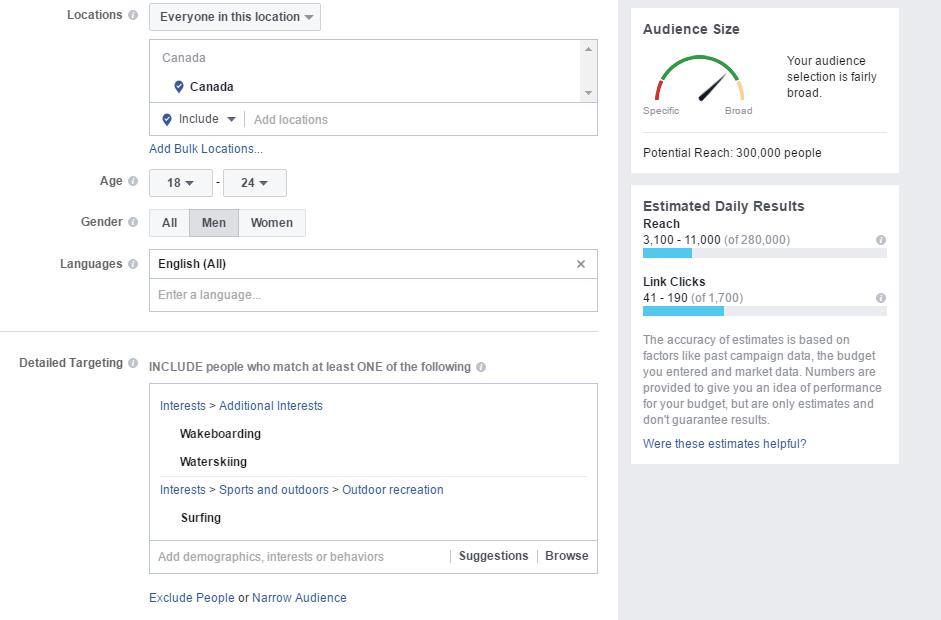 Lets talk Budget
For small businesses, marketing dollars are often the same as operational costs, a red column toward the bottom line and many owners find advertising little more than a occasional necessary evil. Marketing is a cost centre managed by identifying your return on investment. For those businesses however that need to reach out for new customers the cost of traditional marketing can be a burden on the budget.
Regularly we talk to small business owners who advertise in local papers, or create small radio ads that may or may not reach customers directly. Worse – these methods are often difficult to tie to actual retail traffic, or online sales. As a result – marketing spend cannot be tied to revenue, and only a 'gut' guess result to the bottom line can be derived.
Even businesses of some size struggle with the marketing spend vs. revenue question. Without a means of identifying any relationship – direct or indirect for each strategy, successful choices are difficult to identify. Flat revenue during a campaign or new marketing effort does not directly mean that the campaign was a failure – if for example there was an impediment to typical walk-in traffic but your online efforts generated offsetting traffic.
Conversion tracking is therefore critical to the evaluation of any online campaign. Irregardless of the targets of the campaign, effective tracking will help to tie spend directly to a result.
Tools like Google Analytics provide an invaluable array of options for tracking, from simple page traffic data, to user interaction data – whereby users acquired through online campaigns can be tied directly to a client interaction.
Ads can be run for as little as 5$ / day – and setting a monthly budget is easy to do. Even $250 for a month can provide valuable exposure, and even concrete sales. Consider the cost of local or community newspaper ads, free standing inserts, or a billboard… $250 is inconsequential.
And now – the answer to the question: Do Facebook ads work for Small Businesses?
Any business who understands their customer, or the target customer for a specific product can leverage the facebook platform. But the real question is 'does it work?'. With management, a dedicated budget for a few months, and the right metrics – any Small Business can successfully leverage Facebook ads. Understanding goals, and ensuring you are tracking user activity with tools like Google Analytics, and Facebook pixel – you'll know what ads work, what targeting works, and how to maximize your return on investment. A small budget can mean real returns in carefully selected markets.

The Author
Greg is the Marketing Strategist at Microtek Corporation. He helps businesses make the most of their Online Footprint, and provides insight and guidance on how to use online resources – particularly Google Adwords, Facebook Ads and Engagement to build brands, and increase loyalty and conversion with customers.
Microtek offers services throughout the site development process. Site development and consulting, copy-writing, search optimization, and pay-per-click / display advertising solutions.
Don't miss another article! Sign up for our monthly newsletter.