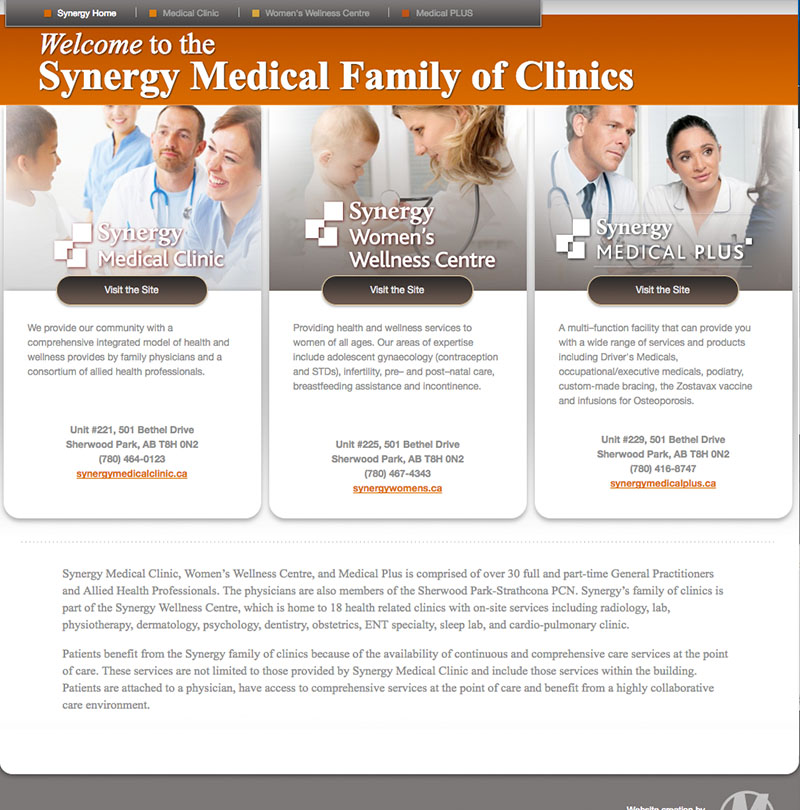 Synergy Medical Clinic, Women's Wellness Centre, and Medical PLUSis comprised of over 25 full and part-time General Practitioners, Specialists and Allied Health Professionals.
Synergy approached Microtek to overcome shortcomings of their previous websites. Microtek provided …
WordPress Multi-Site Environment

Handles the 4 websites in one WordPress install.
Easy for administration.
Ability to share resources amoung the 3 websites.

Fresh, Modern Web Design

Better portal page with description and links to the 3 main websites.
Mini-navigator at the top of each website making it easy to go from site to site.
Improved images.
More efficient use of space.
Easy to see hours and phone numbers in the header.
Effective side-bar with graphical buttons to emphasize important items.

Content Restructure

Easier to navigate.
Better presentation of doctor/practitioner listings.
Clean up of odd characters appearing in previous content.
Google Maps in Contact page to easily locate the facilities.

Custom Doctor/Practitioner Tool

Database driven.
Automatically lists doctors accepting new patients.
Shared amoung the three websites.
Lists doctors in their appropriate website(s).
Very easy to administrate the directory

Mobile Friendly View

Automatically detects mobile visitors and presents mobile view.
Presents same menus and content as the full websites.
Provides best mobile experience.
Microtek provided Synergy WordPress training so they can easily maintain the menus, content and doctor directory themselves.
CLIENT: Synergy Medical Clinic