In the modern B2B and particularly B2C world, a contemporary and functional website for your business is a necessity. Unless you operate as a word of mouth driven sole proprietorship part time – chances are you are still concerned with attracting new business. For most businesses, exposure to new potential business is nearly impossible without some form of marketing or customer acquisition strategy.
For small and medium sized businesses particularly, access to markets is often limited by geography. Terrestrial radio, print, newspaper and phonebook ads are simply too costly for broad distribution. So you think that you can tackle a website on your own and as long as you fill it with great keywords like the names of your products and services – you can count on it to start bringing you traffic right?
Not quite.  Here are three reasons not to tackle your website project without skilled partners to support your efforts.
Users are not who they were 3 years ago
Nearly every potential consumer in North America now owns a 'smart' device of some kind, and likely has access to a computer. Children are exposed to search engines by the 4th grade in most public schools, and site owners have seen both traffic increases as well as significant increases in traffic from users 'on-the-go' with mobile devices. As use of online services and sources of information has grown over the last 3 years, so has the amount of competition for 'top spot' on search engines. As a result of this competition Search has also matured, letting go of the 'if we find it we'll put it on the results page' behavior of old, favoring pages that have content based on the 'intentions' of your visitor, and promoting those sites that best serve the needs of visitors.
Google, who currently leads operates the defacto standard for search technology, uses a collection of algorithms that take into account far more than the 'keywords' on a page. There is an expectation that the site will be built properly, without broken links, and is both fast to load, and easy to navigate. Contemporary design options often handle many of the 'well-constructed' considerations, so what else do you need to be looking at?
It's not what you know, it's who you know
Also important to this evaluation is an assessment of how other sites on the internet reference your site – if at all! Links to your site alone aren't going to cut it either. Higher value is assigned to links from sites that share some relevance to your web property. In short – a link from a directory will hold limited value, whereas a blog, school, news agency, that has topic directly related to your content will have significantly higher value.  With quality construction, ease of use, aligned topics and content, and references from 'respected' sites. You'll need to identify great sources, build content and ties that provide value for other sites – and encourage those link relationships. The final factor comes to the user. Is the experience of your visitors "good"?  While a very subjective description, it really comes down to ensuring that the users 'search term', your page title and page description, and the content of your pages are all aligned with those incoming references. When your visitors are offered your page, and they find the information they were looking for, they are happy.
Using algorithms and magic, engines like google are able to identify a user's happiness with the page selected from the results page – and though it's probably all on-the-level math it's still ok to be a little creeped out. What was once a mechanical 'put these words on your page, and you'll be in the search results', modern search is about delivering the best possible content for your viewers.
There's more to content than words
Search systems have advanced and expectations have been better defined, keeping up with the changes is a full time task. Many content management templates will allow you to put a 'polish' on your content, and hopefully provide a great experience for a guest.  Do you have the skill to integrate content on your platform of choice? How will you know that the creator of a template possesses the experience and knowledge to take you to the next level?
Analytics and behavior tracking are critical to ensuring you are seeing the best possible returns. Using statistics, you should be monitoring the activities of your visitors, and the actions and behaviors of your visitors are your best guide to what you are doing right. Site audits will catch any technical limitations you need to overcome, and content review will spot any unexpected errors in your copy – so that when the search engine visits AND when searchers visit, everything is in just the right place.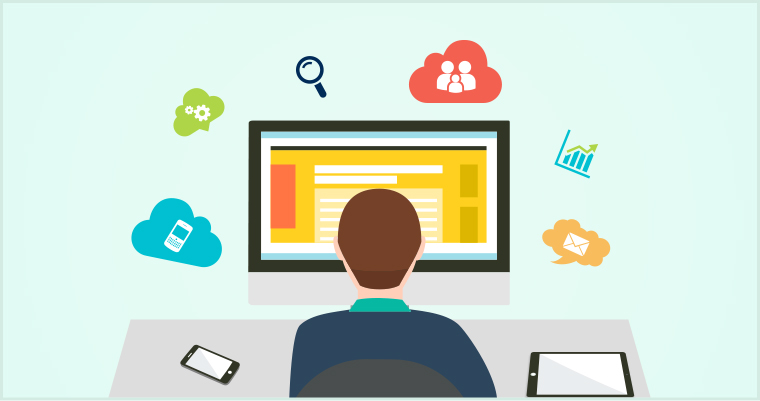 Your content is an offer – a promise if you will – to deliver information that will satisfy the needs of your visitor. Very much the same promise that you make to a potential customer walking into your place of business. If the sign outside, and the displays in the window represent what you offer, then you've taken the first step in building and delivering on a new customer relationship. Following through with the commitment you make to visitors of your site is nearly identical.  When a visitor lands on your site they are looking for something specific. Your page title, link text, Pay-per-click ad, Facebook post, Instagram or Pinterest link – offered something that they want, or want to know more about. Failing to deliver on that promise is a guarantee that the next button pushed will be the 'back' button, not the 'SALE' button on your cash register.
Modern search seeks a balance of content, and purpose. Engines now value the behavior of users as a measure of your site quality, even using the value of 'references' from other sites to determine if you're the best choice for their user. Modern site design and construction need to be married to great content that delivers on a proposition of supporting your potential user, building a 'relationship' in some fashion.
Your site must clearly present your message, your purpose, your product or service, and do so on whatever device your customer visits you with. Your site will offer regular and routine updates, evolving and growing over time. You'll engage with your users, delivering value, and answering questions, creating value for them. You'll be respected by people in your industry or 'niche' as an authoritative voice, and all-around good-egg and they'll link to you as a 'resource' for their customers, clients or visitors. And every day, you'll be monitoring traffic, looking for opportunities to improve, and finding out what content isn't delivering and what is.
Just as you don't ignore a customer who walks into your store, you cannot abandon the visitors to your site. Though it's more complicated to reach out and lead them to their needs, you can review data from your site and use common sense to approach change. Over time you'll build and grown the best possible experience you can.
The Author
Greg is the Marketing Strategist at Microtek Corporation. He spends time working with new and existing clients to help provide exposure to client-sites, and to help them improve their visitor experiences.
Microtek offers services throughout the site development process. Site development and consulting, copy-writing, search optimization, and pay-per-click / display advertising solutions.